Insight MERCOSUR: Paraguay vs Venezuela
Since 2012, MERCOSUR has been going through various changes and adjustments by witnessing, observing and adapting to new conditions within the unusual situations encountered. Undoubtedly, the main issue has been Paraguay's exclusion along with Venezuela's integration, which ultimately portrayed the current background: Venezuela's pro tempore presidency and Paraguay's return to the organization.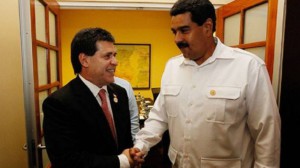 The current year began for Venezuela as a very bumpy road for its internal and international relations. Eventually, it all turned into a consolidated effort coordinated by Nicolas Maduro to re-organize some of its countries national, regional and international objectives. Therefore, in mid July 2013 – under the Paraguayan eyes– Venezuela was entitled to hold MERCOSUR's pro-tempore presidency for six months.
Paraguay's exclusion had been justified through MERCOSUR's 29 June 2012 decision, determined by the Paraguayan former president Fernando Lugo's impeachment and removal – considered to be non-democratic behavior. Its 'comeback' was clamorously re-tackled after Horacio Cartes – the newly Paraguayan elected president took office on August 15, hence after Venezuela's pro-tempore presidency began. Nevertheless, it has not been completed yet, but according to MERCOSUR members' interchange of declarations, it should be at the end of 2013.
Obviously, the alphabetical order in the pro-tempore presidency represents a perfect motivation for Paraguay to lobby in favor of its own next semester, right in time after the Venezuelan one. Hadn't it been for its exclusion and Venezuela's new membership, Paraguay would have followed in line in July 2013.
In the line of dispute between Paraguay and Venezuela, another instrument used by Paraguay is the fact that its senate still has to ratify Venezuela's membership to the regional integration organization. Along with the lack of Paraguay's official invitation by MERCOSUR's pro tempore presidency, this ratification has been mentioned as a motivation for Horacio Cartes' future absence at the next MERCOSUR summit in Caracas.
However, Venezuela had a very active agenda during its presidency not only in the internal MERCOSUR matters but also regarding its enlargement policies: during July's 2013 issue with Evo Morales' flight in Europe, it fully supported Bolivia, and from its block's position, approved the country's integration as a full member. Also, Maduro's speeches regarding Paraguay, before and after its return to the block, appeared to promote a high interest for the country's reinstatement, but have never mentioned anything such as ceasing its pro-tempore semester in favor of Paraguay.
On the other side of the Atlantic, the European Union's position with regard to this apparent internal issue has been quite punctual. During 2012 and 2013 Paraguay's exclusion from MERCOSUR became another impediment in the EU negotiations, issue highlighted both by diplomatic statements – such as the German ones – and by a continued stagnation registered in the trade negotiations. Since it had been used as a key word rather then a key player in the latest talks for the EU-MERCOSUR negotiations, Paraguay has been chosen to be the one to chair MERCOSUR's trade negotiations in the next proposal exchange scheduled for December 2013. The Uruguayan President Jose Mujica, who lobbied quite a lot for Paraguay during its absence from MERCOSUR, has made this decision public at the end of October.
All in all, after Paraguay's accusation towards Venezuela for interfering in internal affairs, the relations between the two were cut down consistently, especially by the follow-up in MERCOSUR. At this point, it seems that towards the end of Venezuela's pro-tempore presidency the improvements to be done are far from being over. The two are still carefully avoiding each other and postponing an effective co-decision especially with regard to their position for the following rotating chair of the presidency. But despite their different positions and their progressive sidesteps, unity and cooperation have been key terms used during this pro-tempore presidency: therefore, perhaps, the best is yet to come.
Fiorella Belciu